Holtzman Design features work  by Jason Holtzman,  who has over twenty years experience as a project designer,  creating world class residential and mixed use projects that merge client dreams with compelling visions and solutions; architectural design that  incorporates sustainable design with the lastest building technologies, and material innovations.
Education: 1993 B.Arch. Pratt Institute, Brooklyn,  New York
Past project experience includes: high rise design, mixed use, residential, office buildings, retail and  hospitality design, with a passion for design at all scales.
With a belief that projects are best developed and designed in 3d from the start, Holtzman's forte has been design, and 3d modeling using 3d Studio Max, with a very helpful and accurate lighting plus in tool: Vray.
Mr. Holtzman has worked for, and collaborated with groups such as:  Hellmuth, Obata + Kassabaum (HOK Architects), New York, Skidmore Owings & Merrill (SOM), New York , 5+ Design, Hollywood, Abu Dhabi, Smithgroup-CNA, Shanghai, Balmore and Associates, as well as producing a number of design/ build projects with collegues.
Mr. Holtzman has been working with innovative concepts of "green" sustainable design professionally, since 1993. He has worked with a strong network of people interested in pushing these concepts, stemming from high rise  design experience while at  H.O.K. Architects, and on numerous projects with a handful of colleagues from the New York City architectural scene also gaining design-build practical construction knowledge and techniques.  Using his  background in sustainability from these  bigger projects, and applying them to everyday use at a smaller scale in residential projects, Holtzman has shared his knowledge of bioclimatic techiques with his clients at all design scales and project types.
While gaining corporate office training at HOK architects in NYC for seven years, Holtzman worked on projects ranging from Delta Airlines terminals at Boston Logan airports, and JFK, to Toronto Hospital's new Clinical Services Building, and AT&T Network Operations Center.  In 2001, he worked with HOK as the main project designer for the 4.5 million square foot "FSM" (Fisher Brothers, Sheldon H. Solow) East River Competition next to the United Nations. This project featured 3 Schemes of 40-60 story buildings, replacing an existing Con-Edison energy plant with new structures that would generate their own energy using a "Bioclimatic" approach.  These new high-tech low energy consuming buildings featuring wind, solar, geo-thermal, and rainwater collectors, as well as hydrogen fuel generators, are examples of how buildings should be in the future.
After 9/11- In 2001, Mr. Holtzman worked on an intensive independent scheme for the Ground Zero site, producing a design that incorporated 5 "bioclimatic" sustainable towers, one in each borough, creating a visual link that allowed the towers to literally and figuratively "talk" to each other via a Wi-Fi laser network. (see http://www.wtc-proposal.com/)
Mr. Holtzman has since continued designing projects that push towards a more sustainable architectural world, with projects such as designs for a master plan project in Abu Dhabi,  U.A.E. (As a Senior Designer for  5+Design, Hollywood, CA.) consisting of sustainable prototypes for a site of 800 multifamily sustainable homes, 17 mid-rise towers, and a retail complex (Adjacent and sharing the "Masdar Initiative" sustainable village site with Norman Foster & Associates). And more recently, for the past five years living fulltime in China, designing masterplan  to  high rise and mixed use projects from Shanghai, with projects in over 50 citys in China.
As a response to great interest working on a number of environmental projects nationally in the United States from New York City to Los Angeles, and a personal desire to do more sustainable architecture around the world; Holtzman lives between  Asia and the United States, to globally help others realize their sustainable and 3d visual aesthetical goals.
Holtzman has been working with a small team between the USA and China, that can design and produce fully engineered pre-fabricated steel, glass, tile, fc board, low maintenance sustainable buildings from start to finish.
Looking forwards to working with you!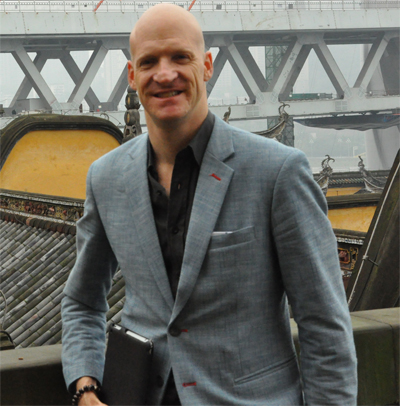 – Jason Holtzman
Map of Holtzman Design Projects across Asia: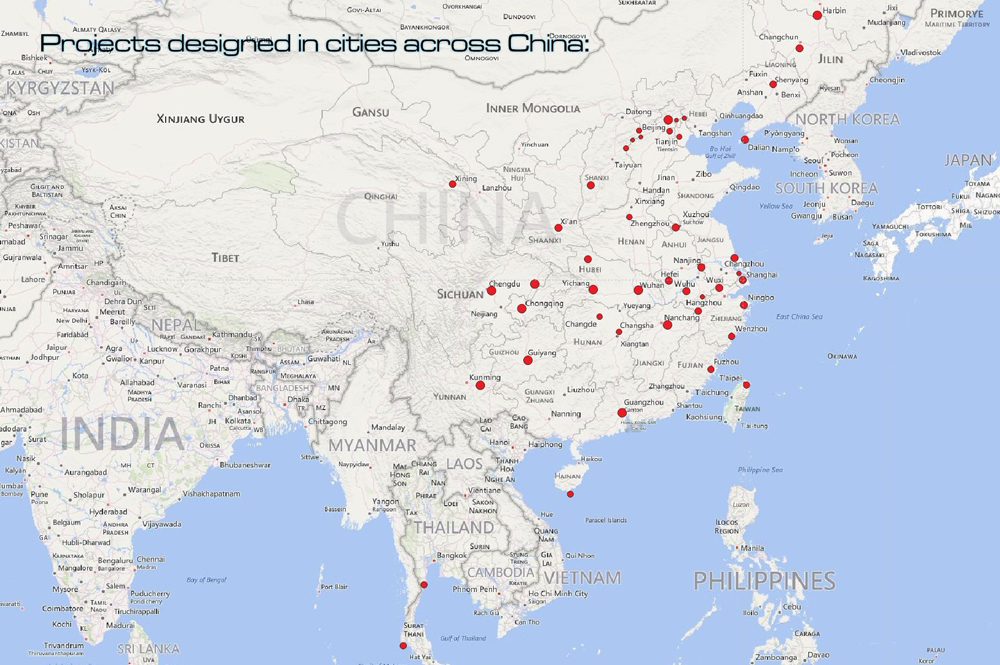 email: jasonholtzman@hotmail.com  Shanghai + 15502161473    QQ: 2492622992    USA  (Skype)  New York City + 9177203152