RESIDENTIAL/HOSPITALITY DESIGN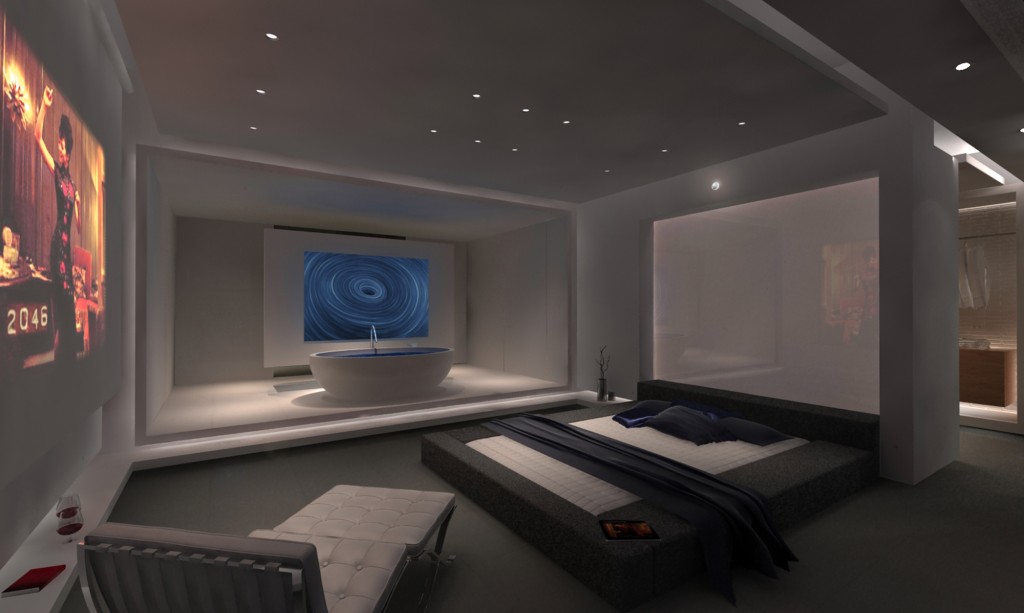 ADAMS LOFT, CHICAGO:
Green Luxury…
Design of a 3000 square foot loft on South State Street, Chicago.
Double volume operable walls to maximize heating and cooling living area temperature.
Lighting, temperature, solar shading, sound, video contol with iPad/iPhone automated system.
(Read more about this project in the "Bioclimatic Approach and Design Philosopy" Section:
A CASE STUDY, IN URBAN SUSTAINABLE DESIGN  THE  "ADAMS LOFT", CHICAGO)
Sustainable Single Level Residence Villa  (2016):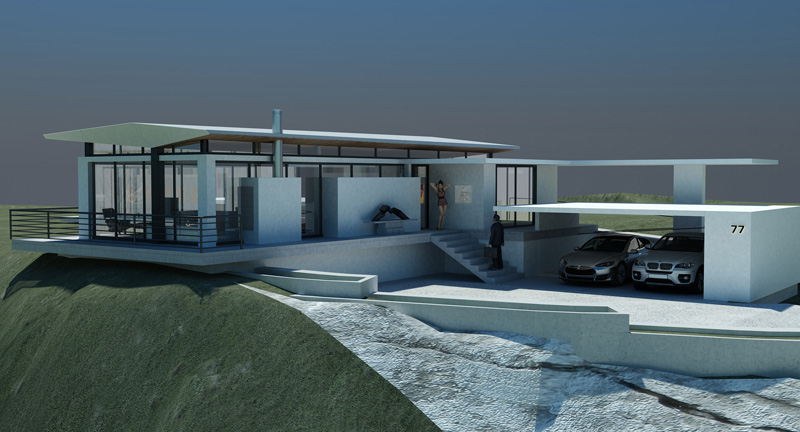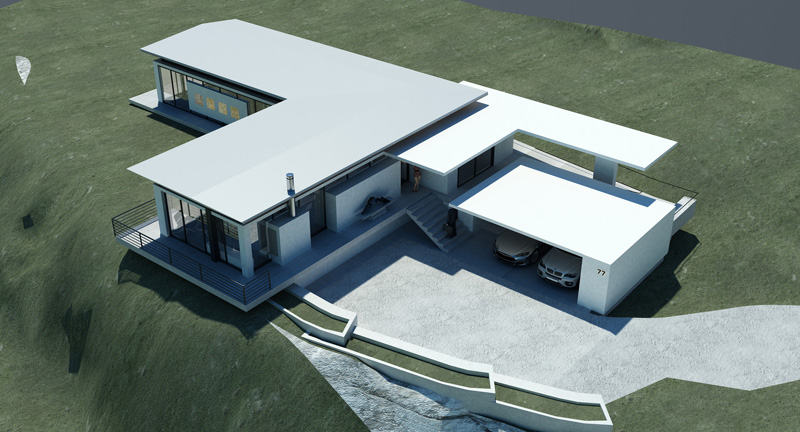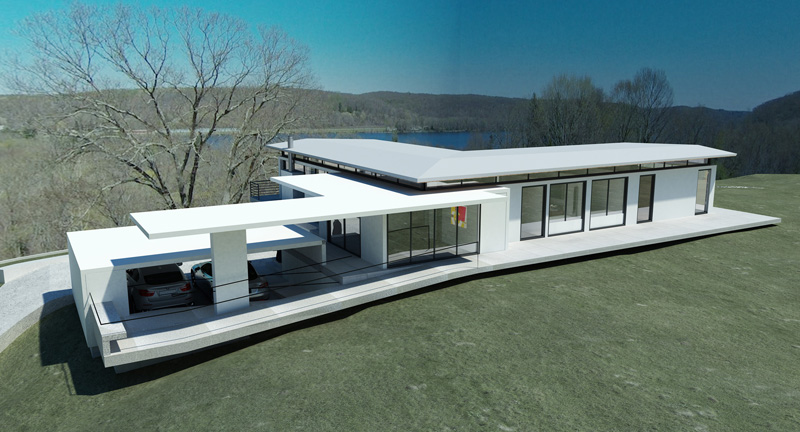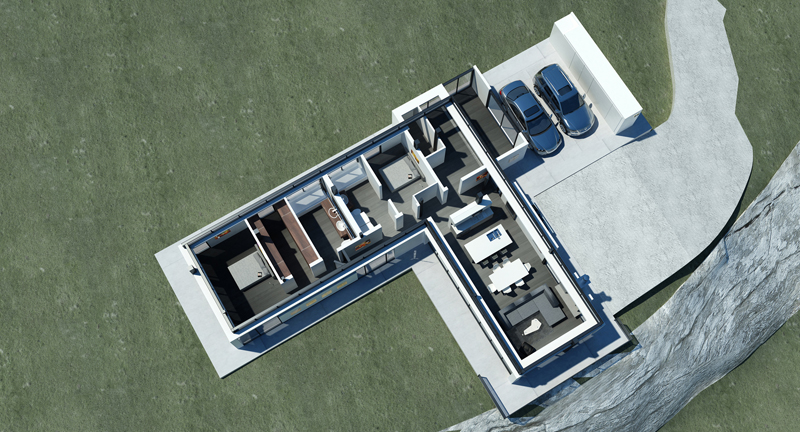 Artist Studio/Apartment(2017):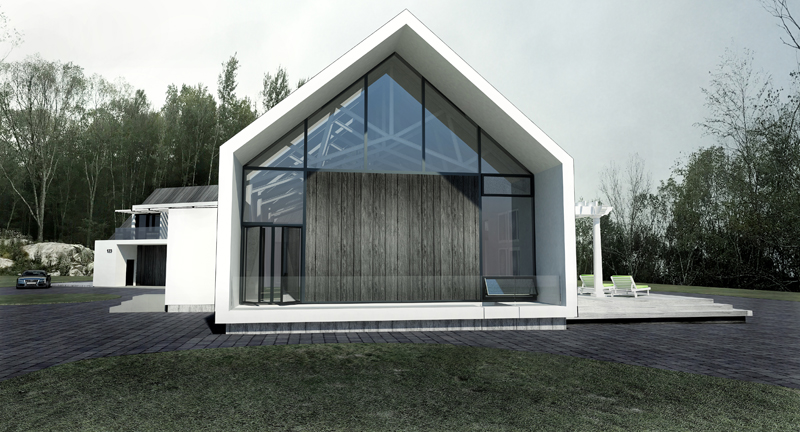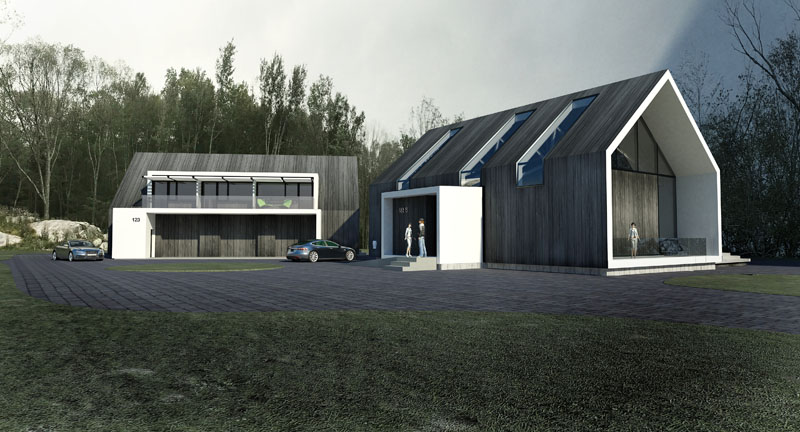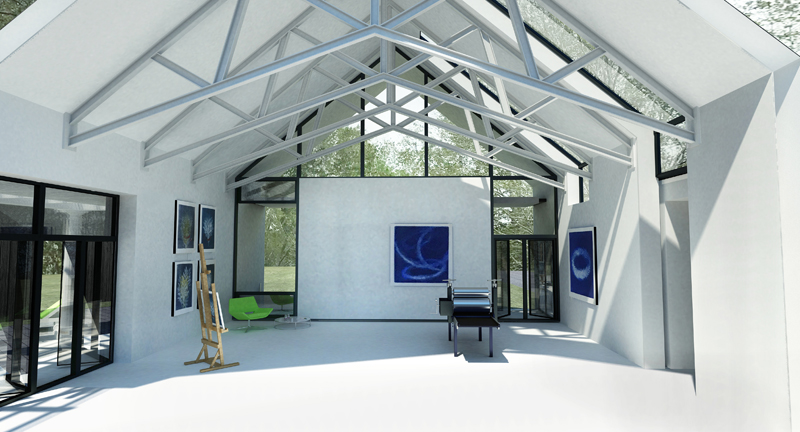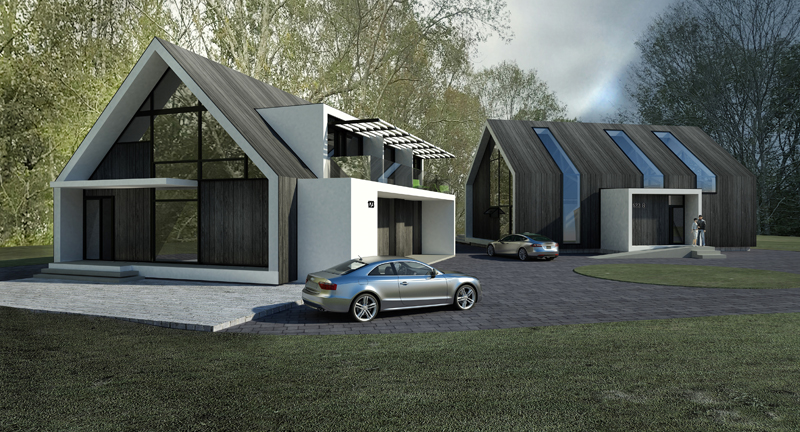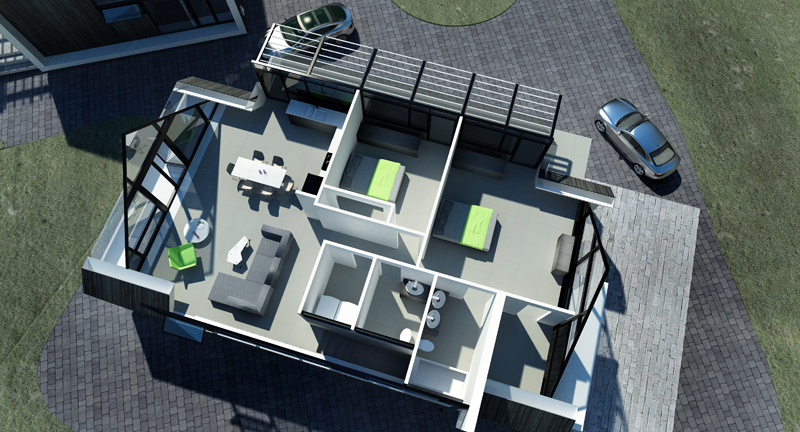 Sustainable Steel Structure Residence Villa  (2016):
Pre-fab Steel Structure, raised on plinth to increase near by river views, inside outside spaces blur boundary of house and nature, small amphitheater for summer music concerts and festivities
Triple Insulated Curtain wall glass, Low maintenance tile façade, Large Passive Solar Overhangs, Solar Electric, and Solar hot water heaters
ADA accessable ramped house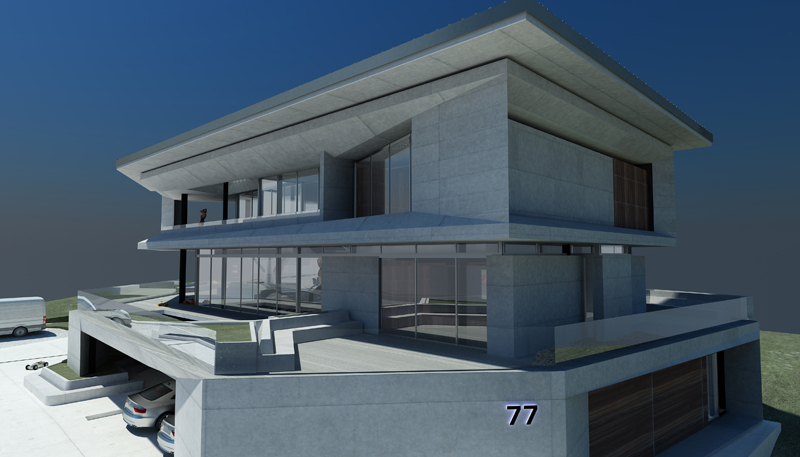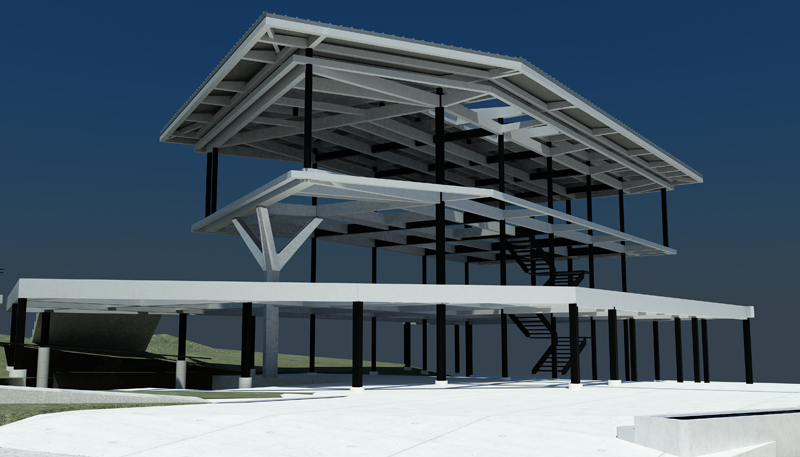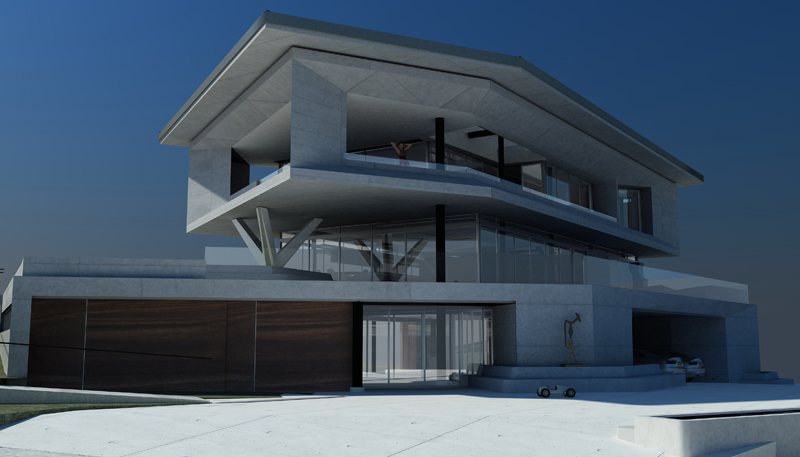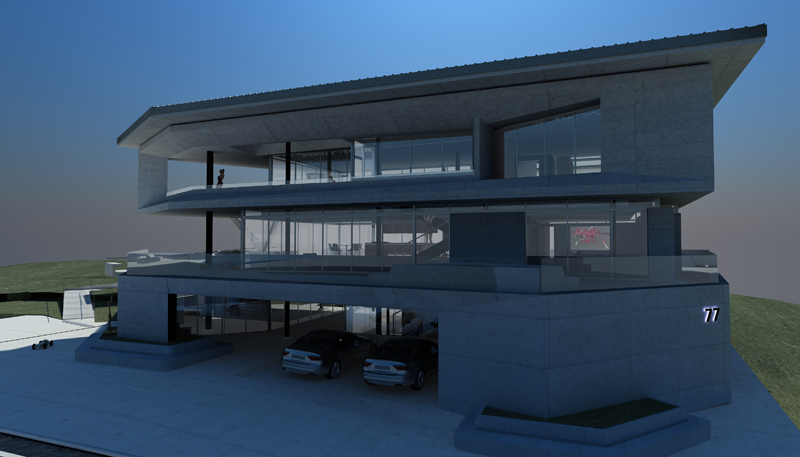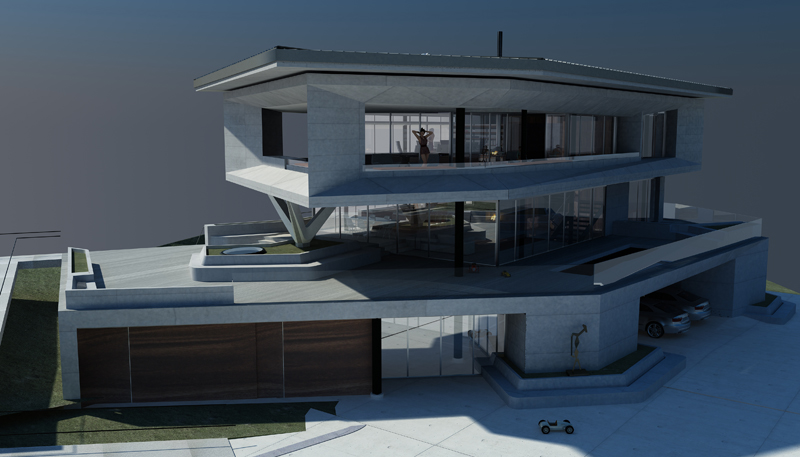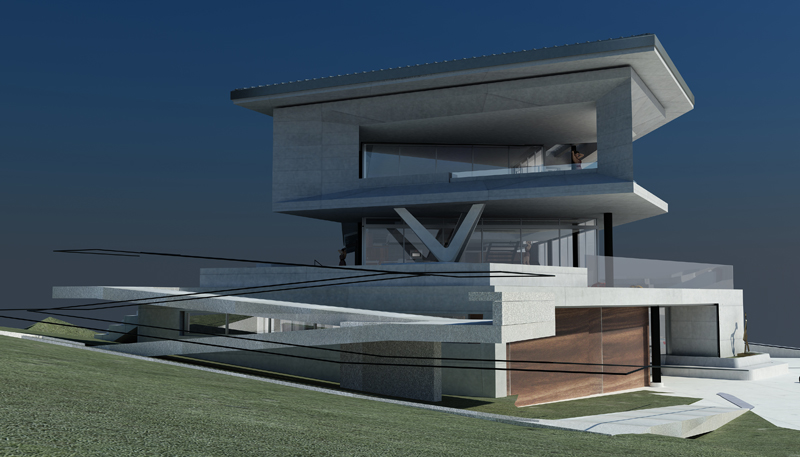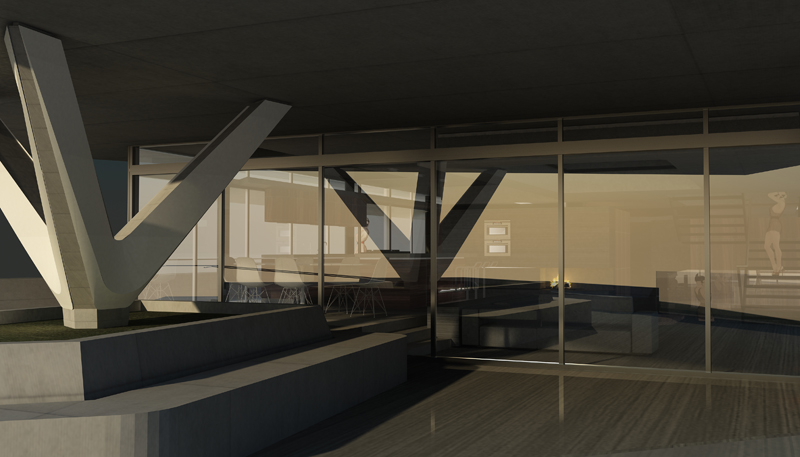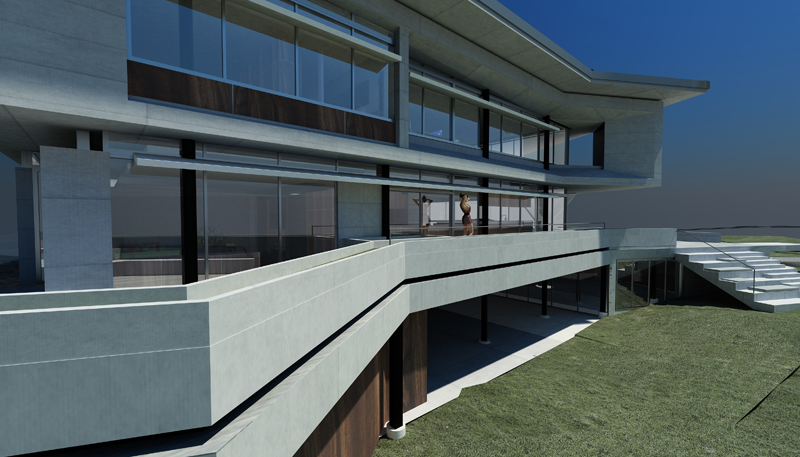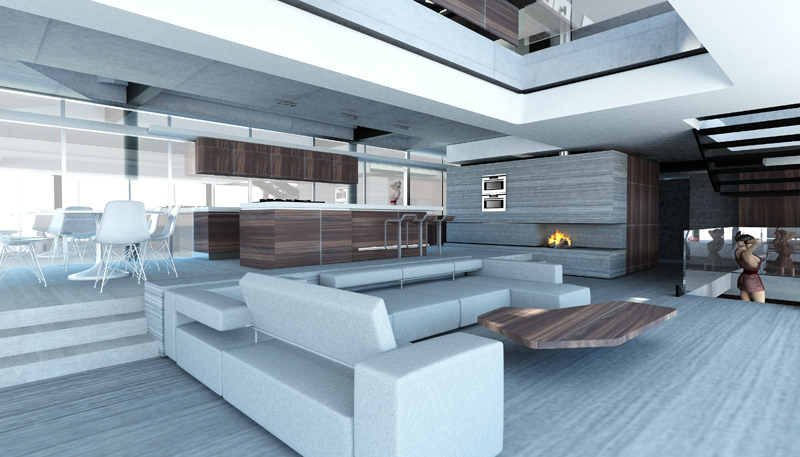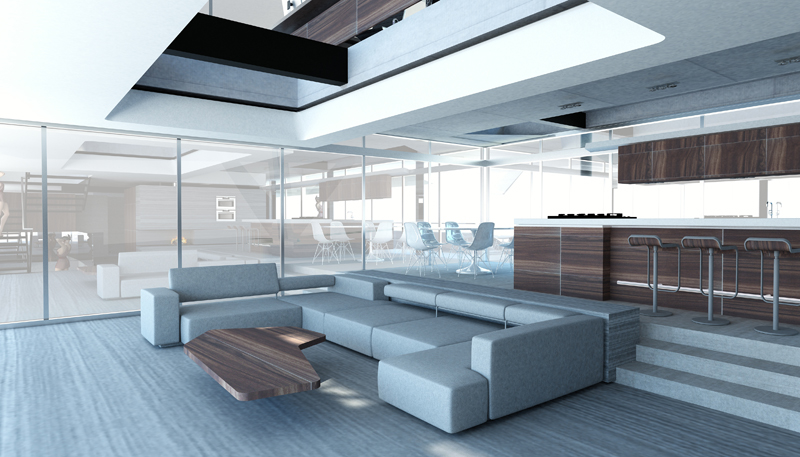 Sustainable Steel Super Structure Residence Villa  (2015): 
Steel Super Structure: Pre fabricated to save on site costs, and increased quality control done in controlled factory setting
Sustainable Design Strategy: Passive and Active solar design techniques, Triple insulated curtain wall glass, large over hangs with solar gain calculations, vertical and horizontal louvers,  inside / outside spaces
ADA Accessible ramped house,  Use of half floors to create larger feeling of space within space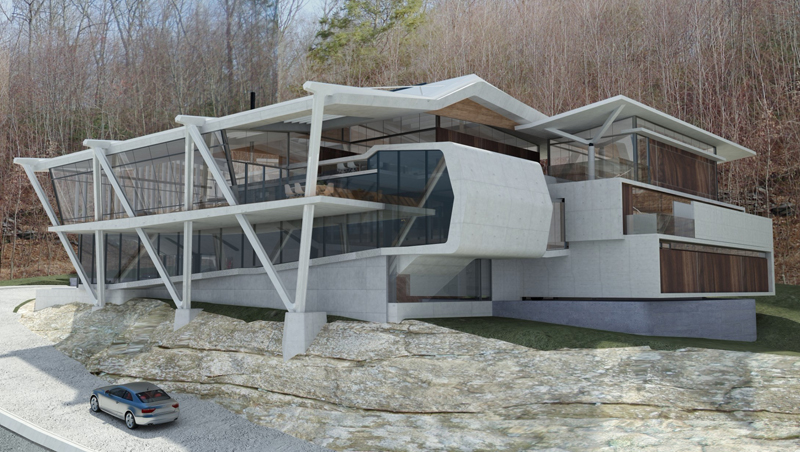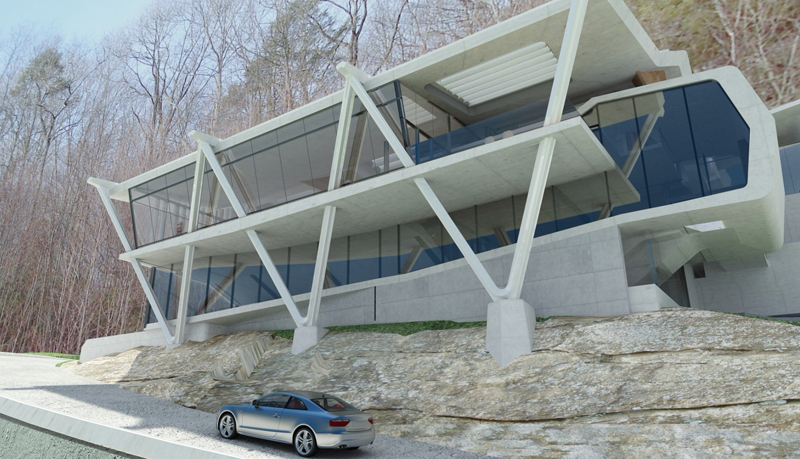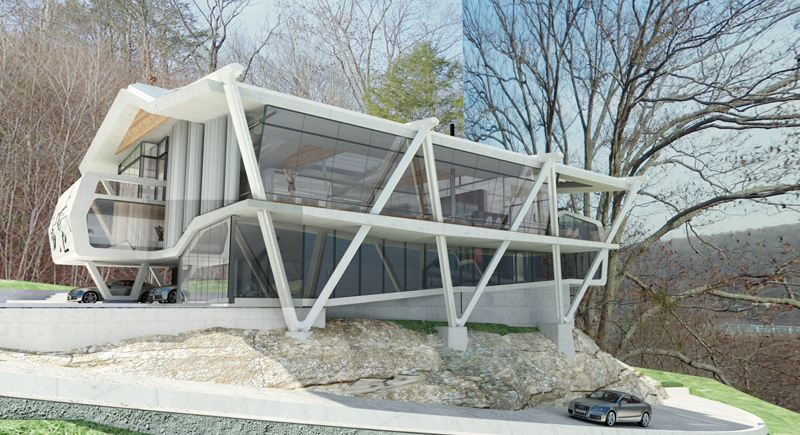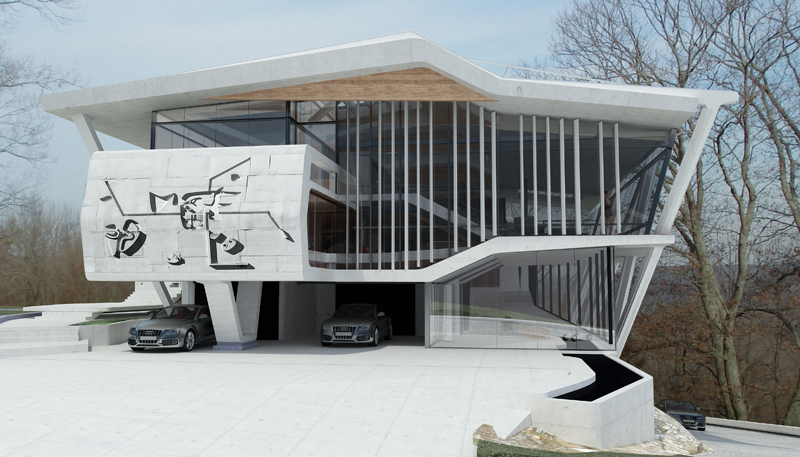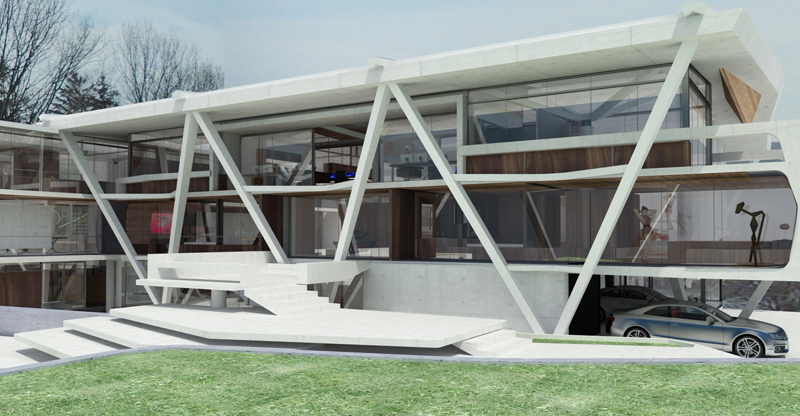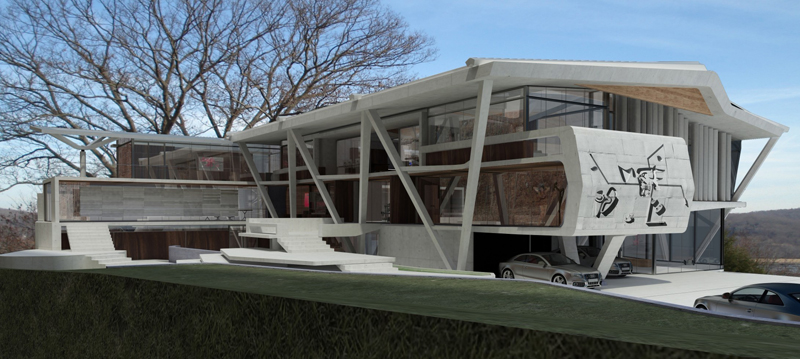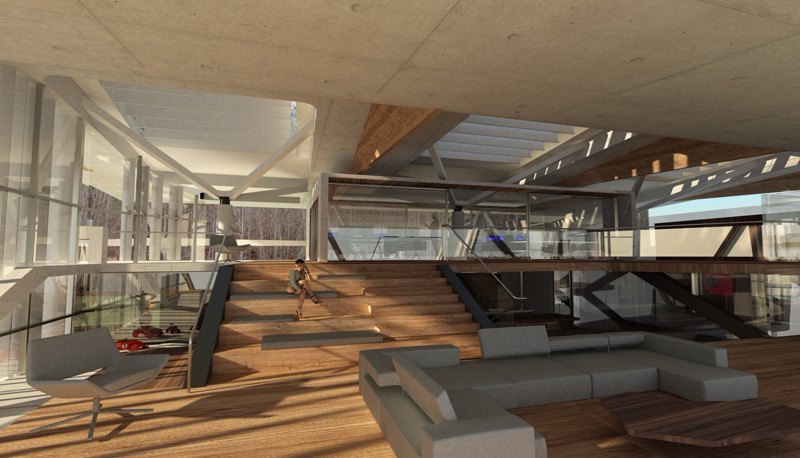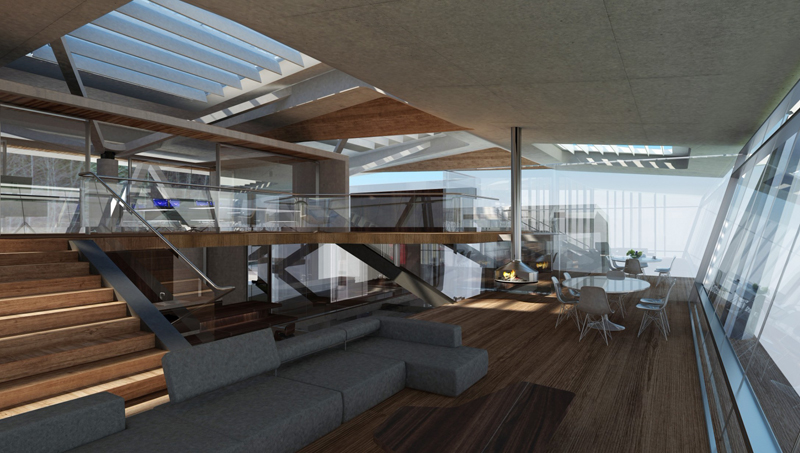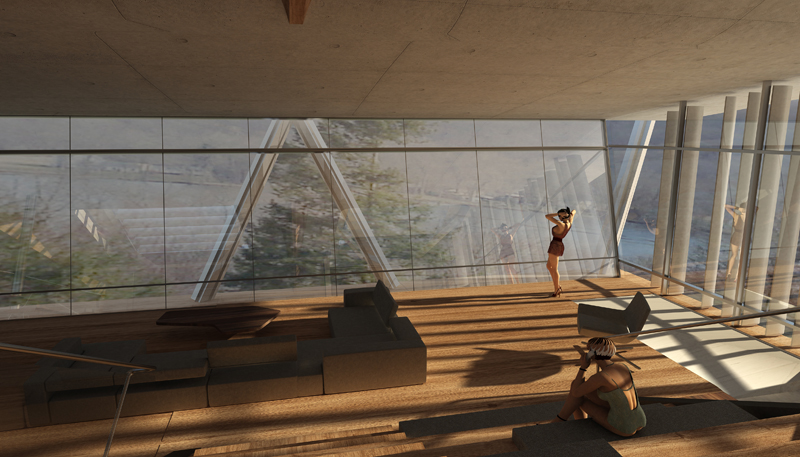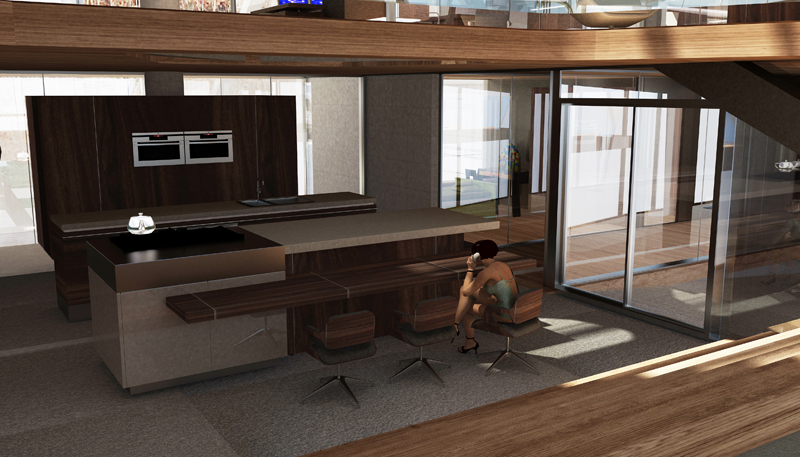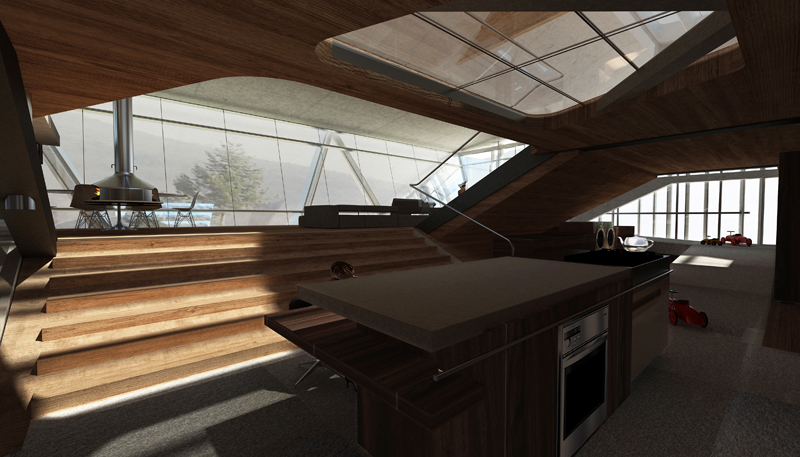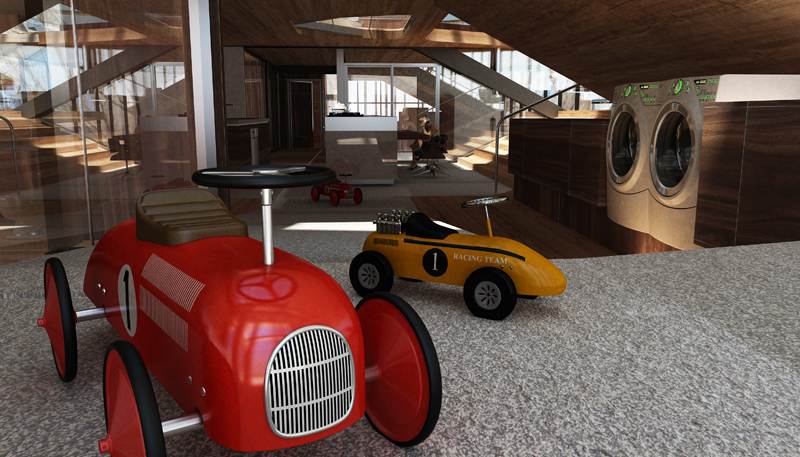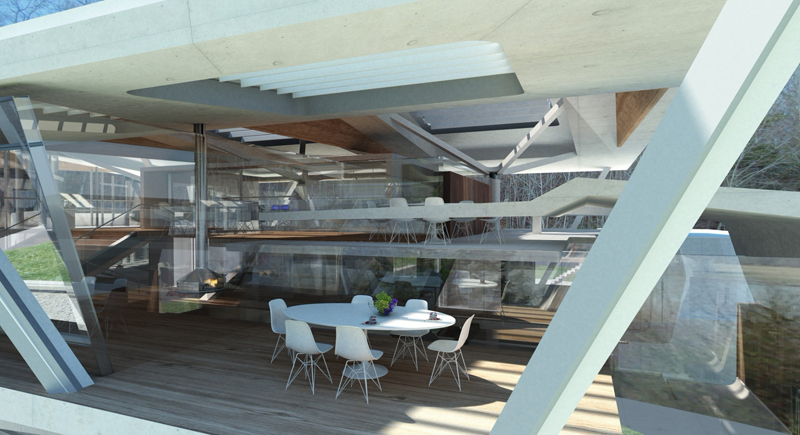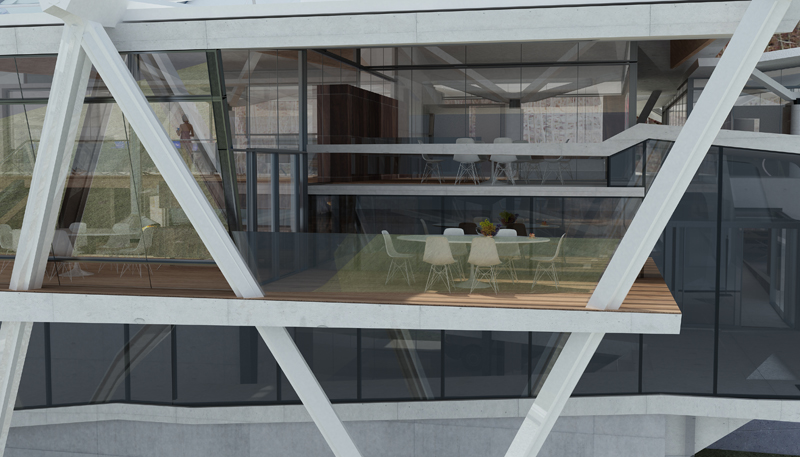 ABU DHABI, SUSTAINABLE VILLAS: (Project with 5+Design, Hollywood, CA.)
Propsal for 800 sustainable villas adjacent to site of Masdar Initiative by Norman Foster.
Double insulated roofs, Solar screening walls with vanacular patterns, Solar Panels, Geo-Thermal cooling, Interior cooling court yards…
McManus Residence Sustainable Villa
A more personal application of "bioclimatics" in residential design was The McManus Residence, situalted along the Connecticut River Valley, in Haddam Connecticut: An environmentally responsive building using Photovoltaic Solar Panels, Geo-Thermal Heating/Cooling system, and passive natural energy techniques.  The modules of the house are based on a prefab 12' x 36' module panel system. The foundation is pored in place concrete with a radiant heat/cooling system.
Designed for a couple that wants a 'low maintenance' and sustainable place to retire in, this house also responds to possible future ADA interests; in that it has as a series of ramps to access upper floors which have great views of the nearby Connecticut River Valley.  Double roofs are used to eliminate heat transfer and give shade, with large cantilevered overhangs to address solar angles, weather protection, and bioclimatic energy concerns.
The North Side of the house features "wind-walls" to protect against cold northern wind during the winter months. Module ''rooms' can be scaled down into smaller modules to minimize costs in heating during the winter as well.  Uplifting the building helps passive cooling in summer.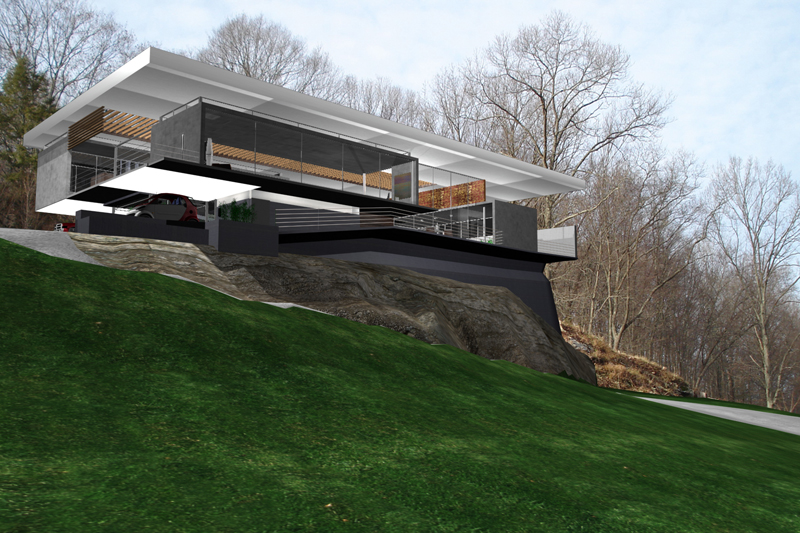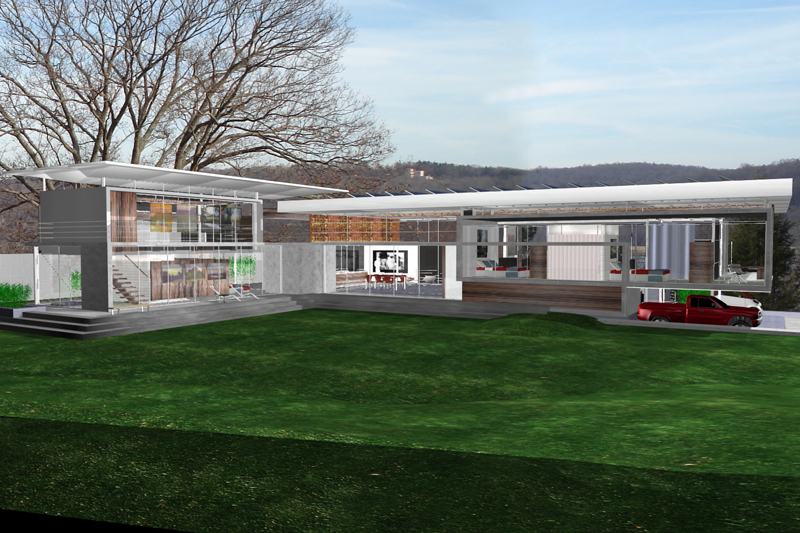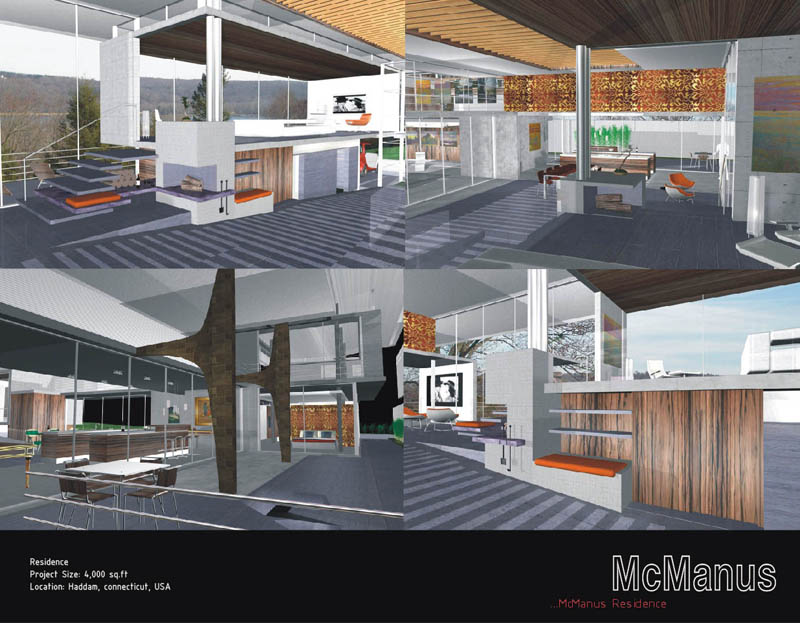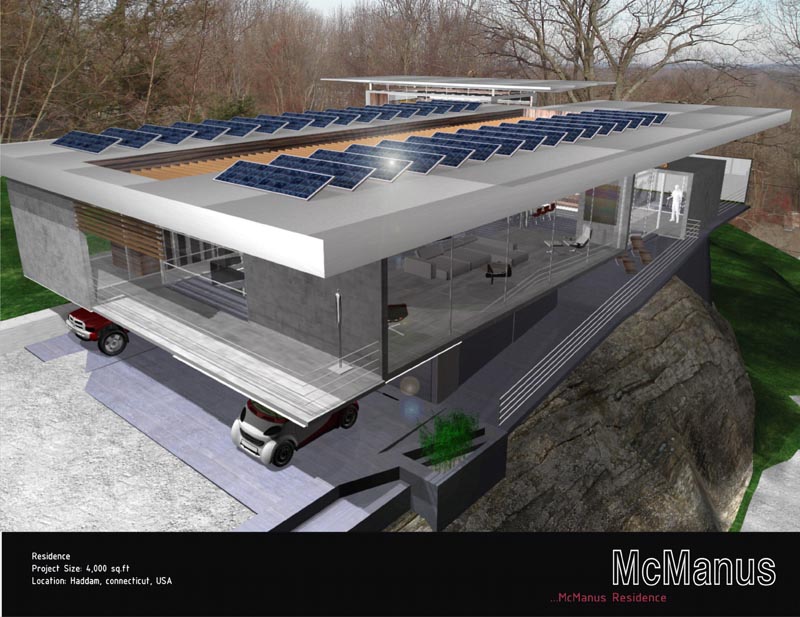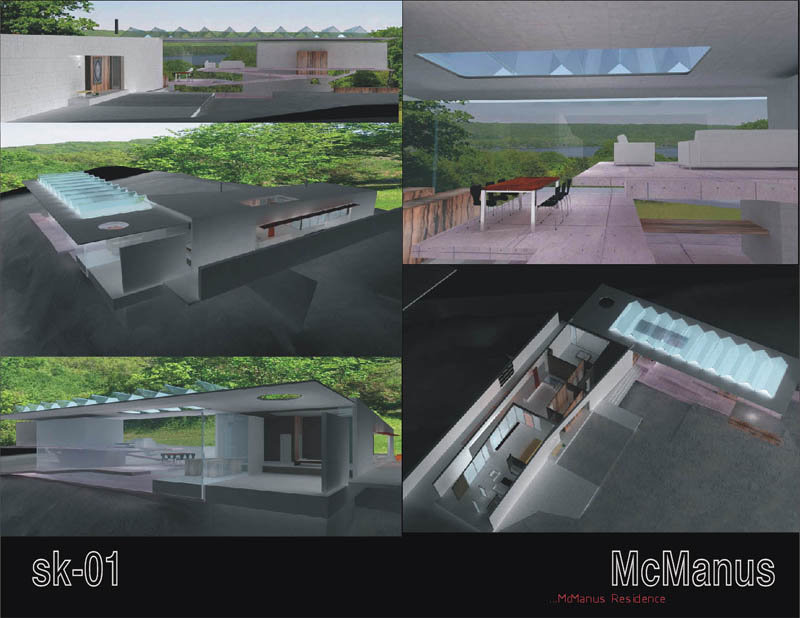 Coltman Road "Eco-Loft" Townhomes
A series of eco-sustainable town homes in Cleveland Ohio, project in collaboration with Dimit Architects.
We designed 27 'Eco-loft' townhouses on an inner-city reclaimed Brownfield site in Cleveland's Little Italy neighborhood.  Each compact Eco-Loft features a "green" flat roof terrace with a solar trellis that can provide up to 25% of the heated water equipment for each residence.
MIDTOWN MIAMI TOWNHOMES
Mixed use residential, retail, entertainment complex, with Green Roof gardens, and large over hangs to minimize heat gain during the day.
Midtown Miami Group Complex, Miami, Florida. Project with Forum Architects.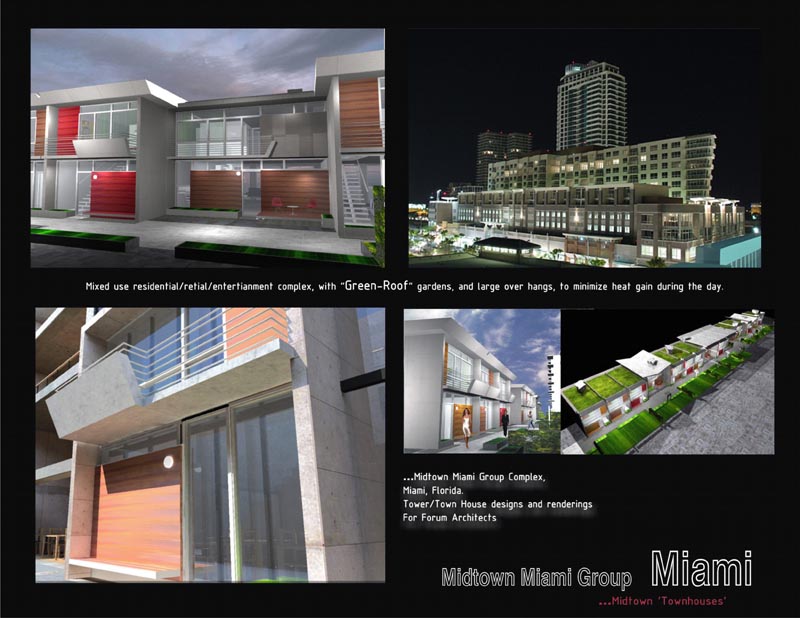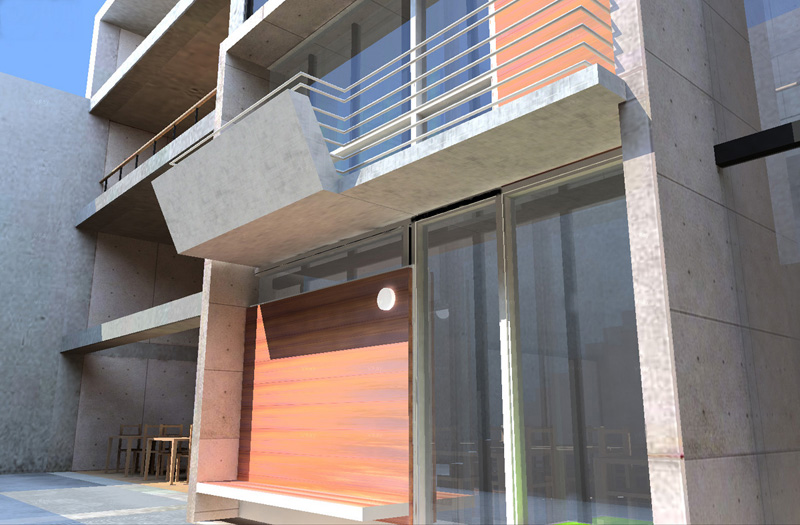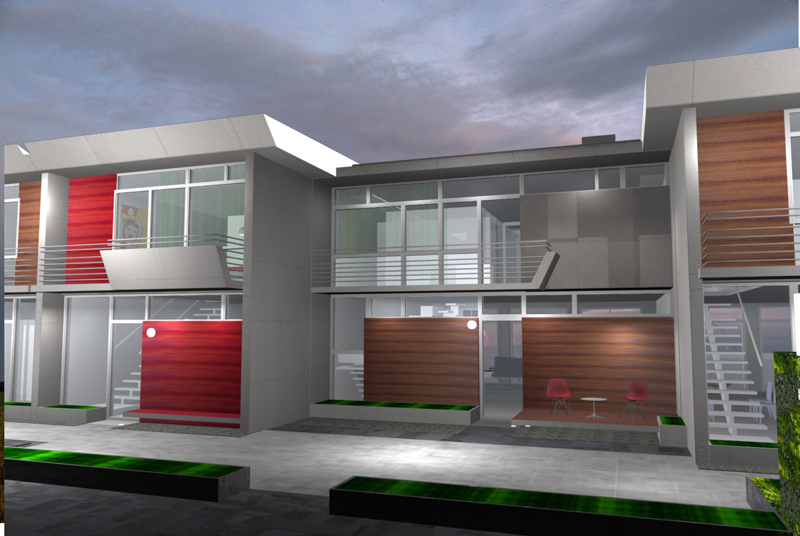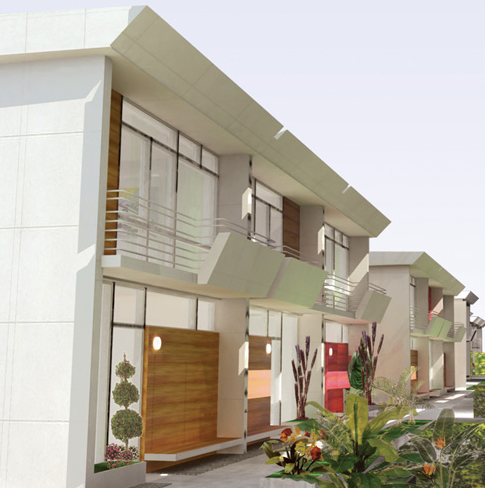 Battery Park  Rennovation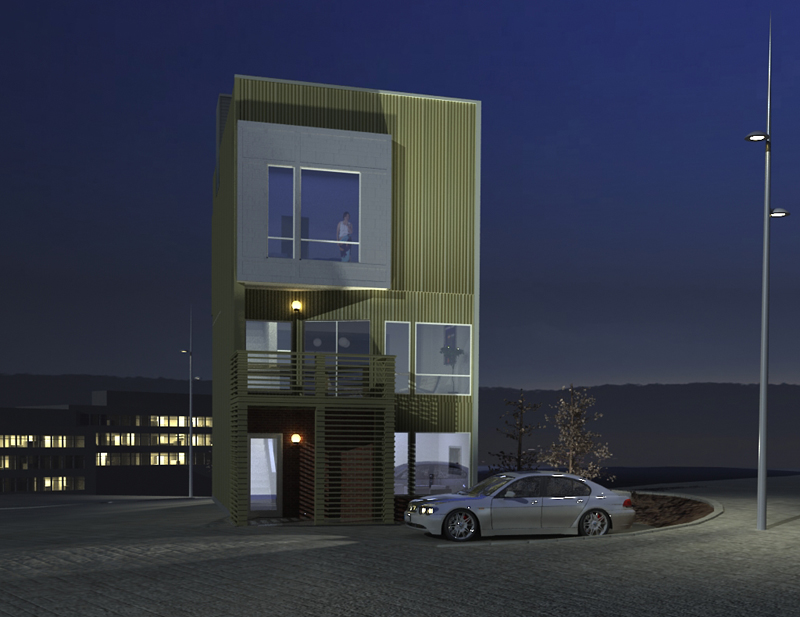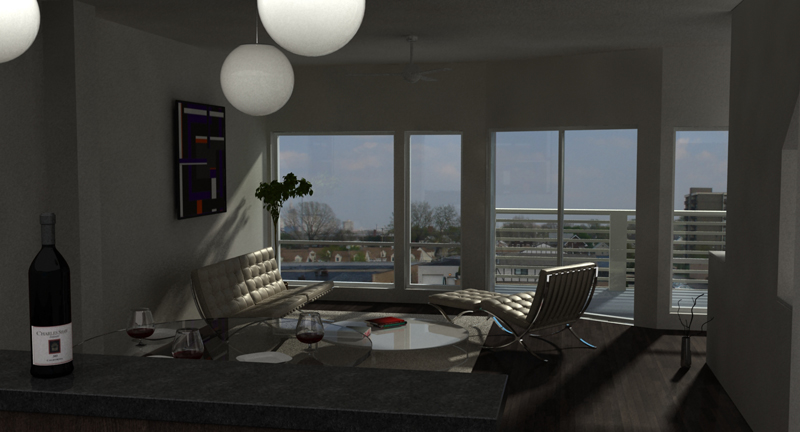 SPEIRS RESIDENCE:
Designed as an addition for a young entrepreneur couple, this house features a kitchen bridge connection between old and new.
Hovering over a reflecting pool this bridge seemingly slices thru the new form, leading to a grand double height living space flanked between a
garage on the public side and master bedroom/bath on the private side.
The large cantilvered roof structure evolved as a response to low energy passive solar bioclimatic energy concerns.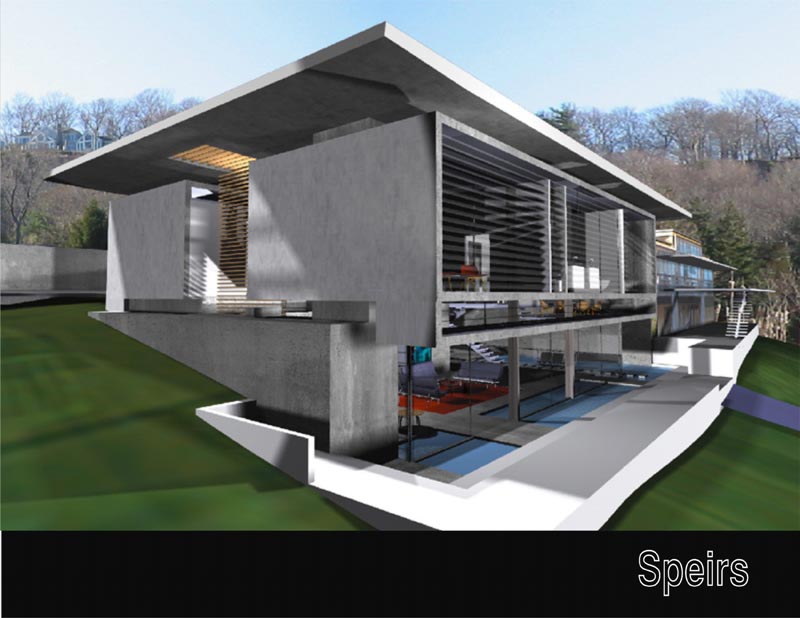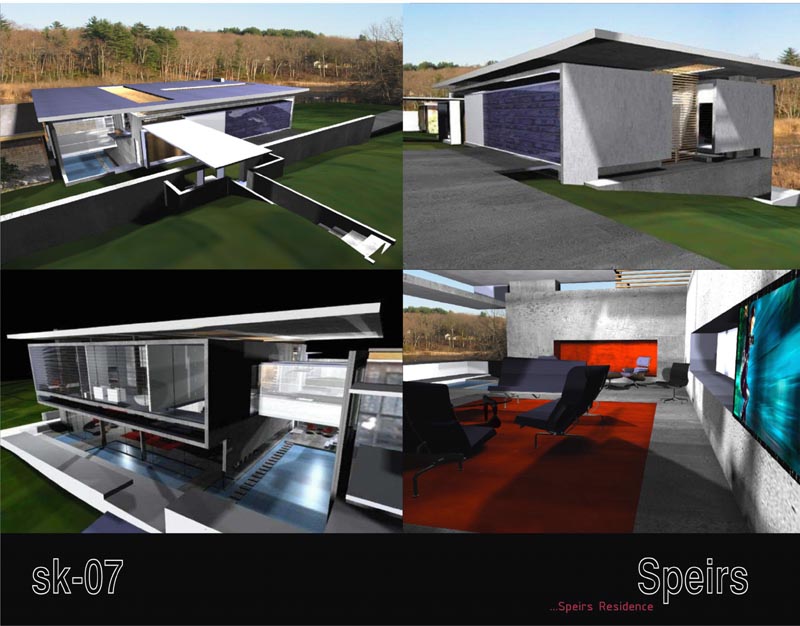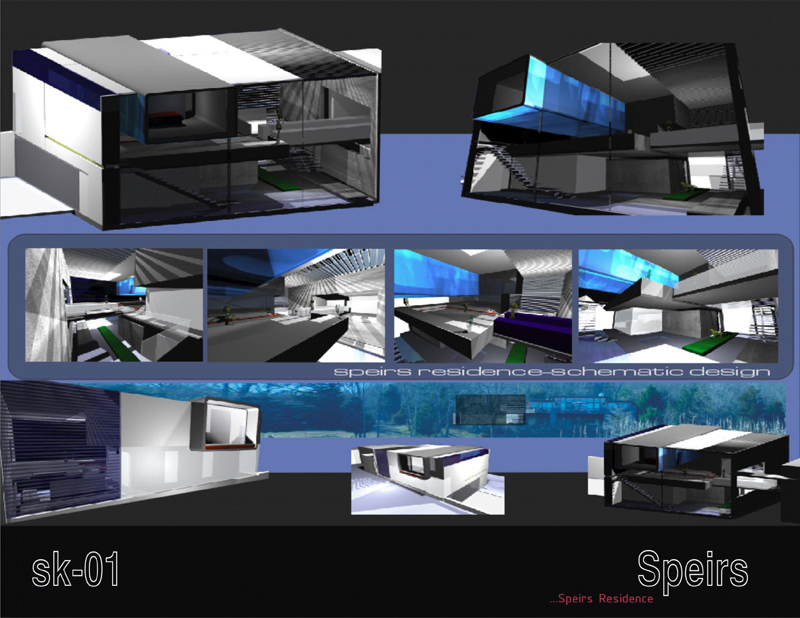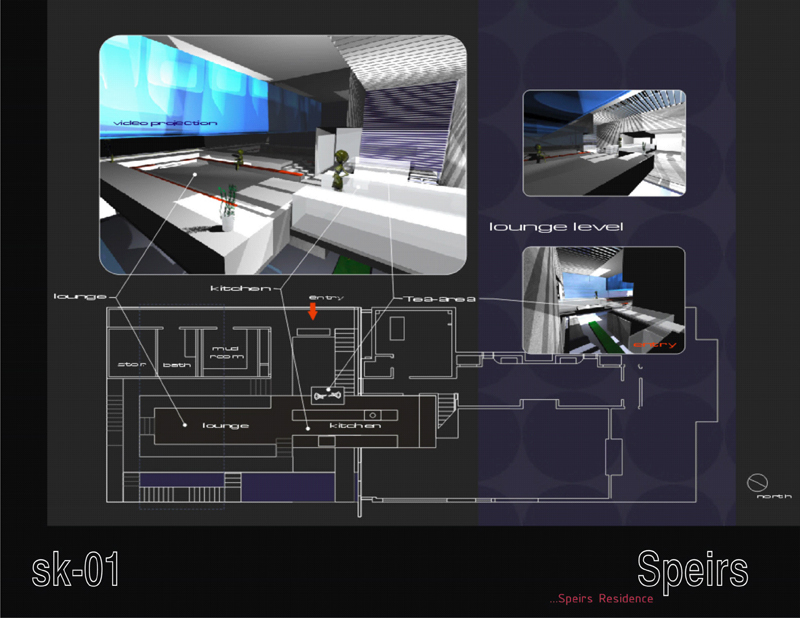 ADAMS RESIDENCE:
Addition designs for a retiring couple as a place to socialize and entertain. The main concept was to integrate inside and outside space, rennovating a classic 1960's mid-west american tract type house-with
An added more sustainable large super-roof helps to minimize heat gain during the summer months, and acts as a double insulated roof and to help keep the snow off in the winter months.
Bioclimatics included use of  photovoltaics, geo-thermal heating and cooling and natural passive cooling techniques.
Pre-fab trusses helped expedite construction time and on site building costs.
The first scheme incorporated a "central garden atrium" which acted as the focus of the exisiting 1960's refurbished structure.
ARTIST STUDIO:
Clipping along side an existing structure, this Artist Studio serves both function and form. Conceptually in section, the structure can be seen as a continious unfolding extruded line.
From entry point, the main studio space hovers over a car-port equipped with a drop off-storage area for the artists large canvases.  One is lead to a main axis hallway which doubles as a gallery for the artists recent exhibited work, and social gathering area for gallery openings.  The main studio room above, has a solid wall for work space beyond which is a balcony where the artist can get fresh air.  On the other side, is an open zen-lie garden which seperates the main house from the new with a space for the contemplation of future work.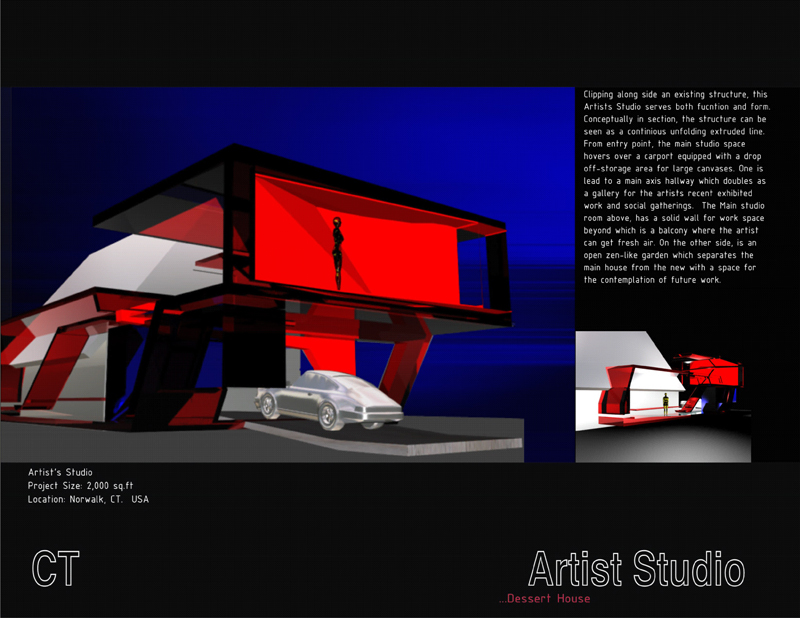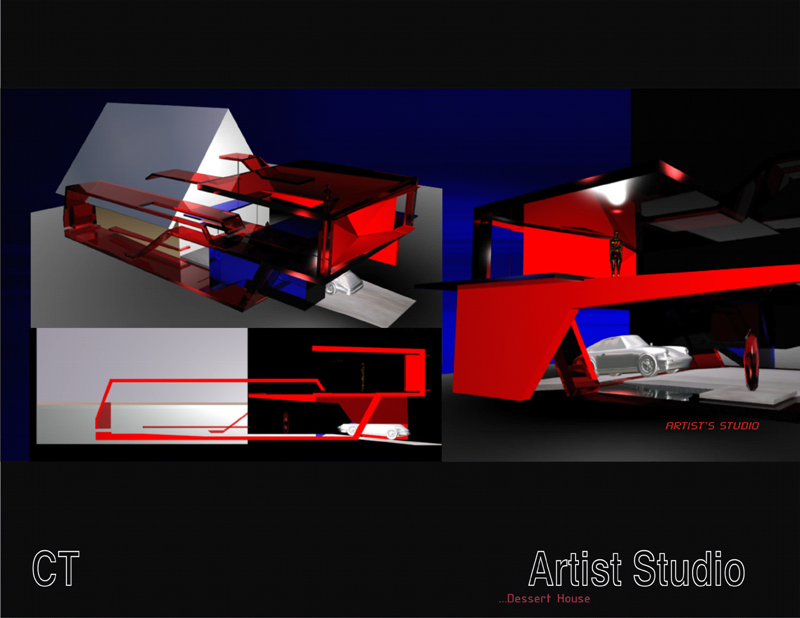 ESSEX STREET PAD:
Within a 350 sqare foot artists studio apartment in lower manhattan, an extruded continious surface acts as a room divider, bed, and lounge area.
Seemingly sliced by a grey painted band around the room, this unit features a mutli-media wall for entertainment and designed table for eating and drinking.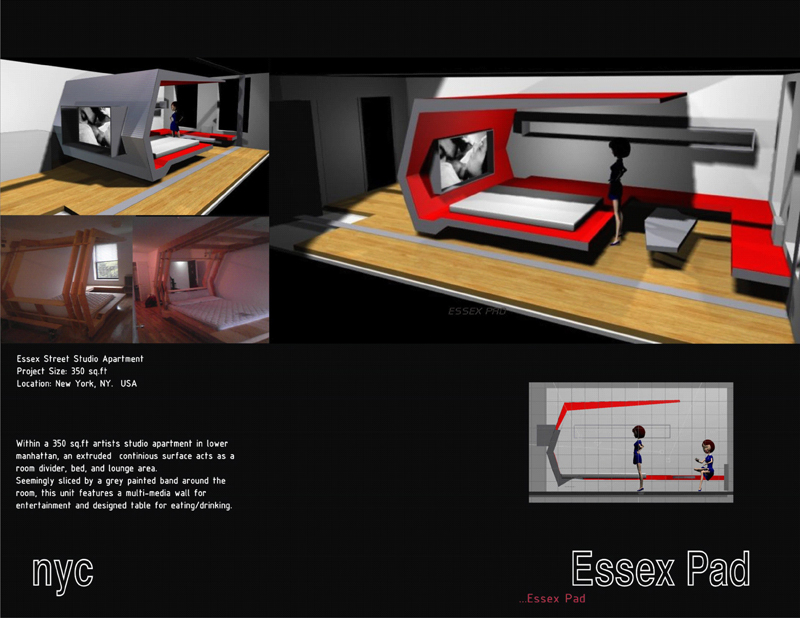 HOLTZMAN DESIGN OFFICE POD
email: jasonholtzman@hotmail.com  Shanghai + 15502161473    QQ: 2492622992    USA  (Skype)  New York City + 9177203152